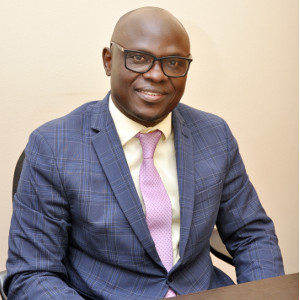 Levi Kabagambe Bategeka, PhD; MCIPS(UK)
hodprocurement@mubs.ac.ug/
lkabagambe@mubs.ac.ug
Head
Message from the Head of Department
In the trade sector, procurement is said to account for up to 35% of cost of goods sold. For the public (government) sector, past estimates have indicated that, on average, government procurement spending contributes 15–20 per cent of GDP (Asian Development Bank Report, 2013). In Uganda, at least 60% of the National budget is expended through procurement, accounting for about 20% of GDP. The message is therefore clear! Regardless of sector or size, procurement is a vital function of every organisation seeking to maximise customer value and/or optimise profits. From this insight, therefore, the Department of Procurement and Supply Chain Management aims to prepare graduates for what they will actually practice in the real world, which is to proactively conceive requirements (works, goods or services) and design appropriate strategies to deliver them in a manner that is effective and efficient to the organization. Through procurement, organizations are able to better manage their supplier engagements across the supply chain.
Hence, procurement enables organizations become the customer of choice to suppliers. This, in turn, helps the latter to drive innovation and bring products to market faster— and with higher margins or efficacy. With ever evolving customer demands, regulatory and compliance requirements; success will only come to those organizations with superb approaches to collaborate internally as well as externally with suppliers and a host of partners in the supply chain.
To this effect, the curricula of our programmes are organized around real-world procurement and supply chain challenges in order to inculcate innovation and problem-solving capacity in our students. Our graduates are trained to identity, access and leverage opportunities from existing or potential supply chain members.
I therefore invite both local and international students to enroll for our programmes.
About the Department of Procurement and Supply Chain Management
The Department of Procurement and Supply Chain Management is an Academic unit in the Faculty of Procurement and logistics management. It is located in Makerere University Business School (MUBS) main campus on Plot 21A Port bell Road, Nakawa, about 8 Kms from Kampala, the Capital City of Uganda. The idea to introduce Procurement and Supply Chain management at MUBS was actualized in 2004 by introducing the option of Procurement and Supply Management on the Bachelor of Business Administration (BBA)  Degree. Over the years, the Department has grown to offer programmes ranging from Diploma, undergraduate and post graduate degrees (Masters and PhD) programmes.
MUBS is therefore the pioneer provider of procurement and SCM Education not only in Uganda but in the region as well.
Programmes offered in the Department
Diploma in Procurement and logistics management (2 years)
Bachelor in Procurement and supply chain management (3 years)
Master of science in Procurement and supply chain management (2 years)
PhD (3 years, by Research only)
Research, Training and Advisory services
The Department, through her expert faculty, strives to provide quality training, research and advisory services to both private and public sector clients in the following notable areas;
Sustainable procurement
Training and capacity building
Digital public procurement transparency
SMEs and public procurement
Performance of Women- owned businesses in public tenders
Procurement and the vulnerable groups (Women, Youth and PWDs)
Procurement and supply chain cost management
Procurement audit and investigation
Supply chain optimization
E-procurement systems
Supply chain resilience
B2B supply chain integration
Humanitarian supply chain and logistics management
Tendering and pricing
Order management
Supply chain analytics
Procurement ethics and governance
Procurement transparency and integrity
Business partnering and supply chain performance
Blockchain supply chain
Procurement and supply chain Research
Our contacts 
> Collaborations: Dr. Levi Kabagambe Bategeka  (+256772405563) hodprocurement@mubs.ac.ug/lkabagambe@mubs.ac.ug
> Admissions: registrar@mubs.ac.ug